News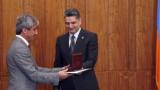 Reward
13.08.2011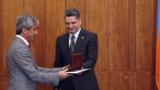 2 May, 2011 – Prime Minister of the Republic of Armenia have rewarded Saranist company for the investments in the economy of Armenia in 2010 year.
There has been announced in Government, by Mr. Tigran Sargsyan, that the company managment has been recongized with their good work, sufficient arrangement to meet the challenges, make creative projects and cooperate with the government within last 3 years.
 Saranist company is sure that development will never stopped and for new achievments will be acknowledged in 2012.